A.J. Jolly is a classic track that opened in 1962 with gently rolling slopes that provide just enough changes in elevation to make for a fun round without that feeling of battling against the course. For CinciGolfers, this course is well worth the drive. Tucked a little south in Alexandria, it was an easy ride to get there and with their Senior Super Saver priced right!
The course was in great shape. Tee boxes, fairways and greens have been well maintained. And even with the recent heat they have taken measures to keep the course playing well. We were greeted by friendly staff and had a nice visit with Terry and Steve, the course pro's. Out on the course, pace of play was good despite how busy it was. The staff kept an eye on things but we never felt rushed. A tasty Brat at a reasonable price got us through the turn and ready to tackle the challenging drive on the 10th hole. If you've played here you know what I mean. If you haven't, you really need to give this course a try.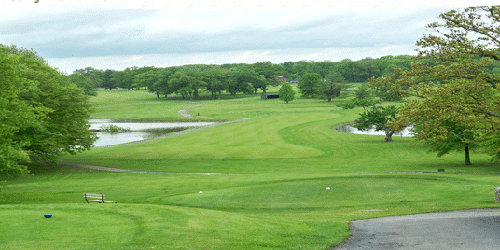 It was a hot day when we played here, but shade from the many trees helped us get through the round with reasonable scores. For me, it was worth the trip from Mason. For those closer, you can't go wrong playing a round at A.J. Jolly!
Stay tuned for our next on course adventures!